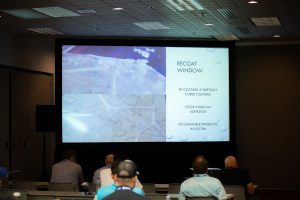 Looking to master finishing? What about edgebanding? The latest on materials and surfaces? We got you covered!
TU38: Color Strategies for Achieving Optimum Results
Thursday, July 25, 1:30 – 3:30 p.m.
Robert Chickey, Bespoke Finish
Finishing expert Robert Chickey will discuss all aspects of color, including using clear coats, sanding substrates, recognizing and neutralizing undertone, and more. Read more.
WE55: Invisible Edgebanding – Tips and Technology for Achieving Seamless and Perfectly Bonded Edgebanding
Wednesday, July 26, 9:30 – 11:00 a.m.
John Elder, Jowat
We will detail new developments in application equipment and adhesive technologies and explain the potential benefits and drawbacks. Read more.
WE61: Finishing Failures – Is it the Coating or Our Process?
Wednesday, July 26, 11:30 – 1:30 p.m.
Diane Shattuck, Professional Finishing Academy & Consult
Failures in our finishes can always be dialed back to three main reasons. In this class we will expose the three evils spawns. Understanding what, why, and how these are happening is the first step into getting your profits and scheduling back on track.  Read more.
WE63: Material and Surface Trends
Wednesday, July 26, 1:30 – 3:00
Christina Relyea, JB Cutting
An overview of the hottest styles from color to textures and how to apply them in a successful business strategy for your market. Read more.
WE71: Water-based Coatings for Wood
Wednesday, July 26, 3:30 – 5:00 p.m.
Denny Jahnz, Cabinet ReNu
In this in-depth presentation, many topics will be discussed, including primers, paints, sealers, stains, application methods, safety precautions, and more. Read more.
TH84: Mastering the Art of HVLP Spray Finishing
Thursday, July 27, 9:30 – 11:00 a.m.
Marty Schlosser, Fuji Spray
Master the key elements necessary for achieving a successful finish using HVLP turbine systems. Read more.