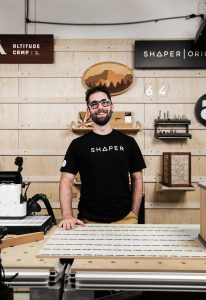 Russ Fogle is a designer and engineer who uses the latest manufacturing technology to bring humanity to our manufactured world, from generative organic shapes to customizable parametric designs. He began working at Shaper Tools in 2021.

Rapid Fire Session: Shaper Origin + Plate + Hardware Catalog
All Rapid Fire sessions take place at AWFS®Fair Live, booth #4780.
Rapid Fire sessions are FREE to all registered AWFS®Fair attendees, no advance session registration required.