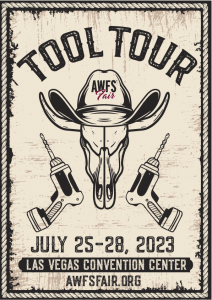 Get your lassos ready…the Tool Tour is back with a western theme, and we are ready to get our boots kickin'! The Tool Tour is a showcase of exhibitors who specialize in hand and power tools. As attendees, you can visit their booth to learn about and experience their new tools. Everyone has fun and if you finish the tour, there is a free collector's t-shirt to take back to the shop!
Learn more here: https://www.awfsfair.org/attendee-information/tool-tour/
Register now for the 2023 AWFS Fair to receive Tool Tour Updates!