You asked, we listened!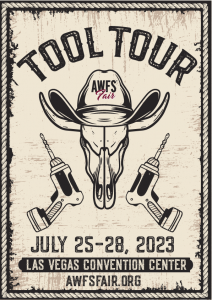 Get your lassos ready the Tool Tour is back with a western theme and we are ready to get our boots kickin'! The Tool Tour is a showcase of exhibitors who specialize in handheld power tools. As attendees, you can visit their booth and learn and experience their new tools.  Everyone has fun and if you finish the tour, there is a free collector's t-shirt to take back to the shop!
Participation is easy!
1) Pick up a stamp card at the registration desk.
2) Visit each booth on the card & get all the participating exhibitors' stamps.
3) Turn in your fully stamped card in at the AWFS® booth in the lobby & get a free t-shirt!
Check out some of the participating exhibitors below. Learn more about them by searching for them on the floorplan.
Want to secure your ticket for the AWFS®Fair? Register here!