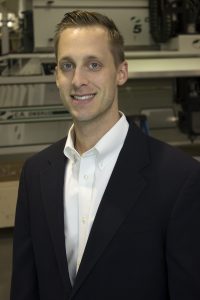 Thomas Tuck has spent his career in the manufacturing and CNC router industry. Since 2015, Thomas has been a member of the C.R. Onsrud Team. With a BS in Furniture Design and Manufacturing, and BS in Business Management from Appalachian State University – 08′ (Boone, N.C.), Thomas is a great asset for manufacturers in all industries.  He truly understands the challenges, goals, and processes companies have. Residing in Statesville, NC, and married, with two children as well (2 & 6), Thomas enjoys fishing, hiking, playing golf, landscaping, App State Football, and is passionate about finance. His industry passions are in the furniture and marine/ boat sectors. Thomas has been the top Salesman at C.R. Onsrud over the past few years and loves hearing from customers, "C.R. Onsrud is the best business decision we have ever made!".
Rapid Fire Session: Gaining a Competitive Advantage – How to Stay on Top of Your Game
All Rapid Fire sessions take place at AWFS®Fair Live, booth #4780.
Rapid Fire sessions are FREE to all registered AWFS®Fair attendees, no advance session registration required.