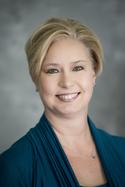 Kristine Cox is co-owner, along with her husband Jeff, of Rowland Woodworking, Inc., located in High Point, NC. A native of South Carolina, she has lived in High Point since her teen years. After completing her Interior Design and Architectural Technology degrees she joined the business (then Triad Drafting & Cabinets) full time in 1997. After purchasing Rowland in 2003, she started her involvement in the Architectural Woodwork Institute as a volunteer – first in the local Carolinas Chapter and then in the national Association soon after. She has served in roles ranging from committee member to committee chair to Board Member in both and served as the AWI National President in 2017.
Her most challenging, and rewarding, role in both the chapter and national platforms, is serving as Technical Chair for the SkillsUSA North Carolina Cabinetmaking Competition, and as the Chair of the AWI SkillsUSA Committee, those teams being tasked with producing their respective Cabinetmaking competitions. Dedicated to promoting careers in the industry to tomorrow's workforce, these are the roles she enjoys the most.
When she is not working or advocating for the industry, she enjoys traveling; reading; cooking; home improvement projects; spending time with family; and being her two Italian Greyhounds, Finn and Freya.
See Kristine in: TU46: SkillsUSA in the Wood Industry