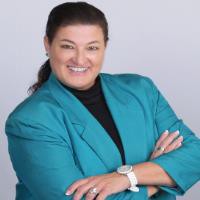 Kelli Vrla, CSP, CVP, CCSP is a Road Warrior for Workplace Engagement: She helps organizations discover and define the culture to attract, inspire, nurture and engage their workforce–a roller coaster ride of inspiring skills to POWER UP your people! Kelli helps businesses increase engagement and diminish distractions, while keeping an eye on customer satisfaction and the bottom line. She bring over 30 years of real-life business expertise: half of that as a broadcast executive and morning show host on the nation's first all-women, all-talk radio station. Since her radio days at ABC, she has successfully consulted companies like Capital One, Mercedes Benz, Burger King, H&R Block, and Southwest Airlines, among others.
She can be found giving impromptu seminars to unsuspecting passengers on one of her many delayed flights. Whether you're fine tuning or re-defining your work culture and you want your people to say, "This is an amazing place to work!" you'll find value in her most-requested and festive programs. Let's tap in, tune in, and turn on YOUR WORKFORCE! Catch the Engagement Wave~catch Kelli V!
See Kelli in: WE40: Ready, Set, ENGAGE! Rock Stars in the House!