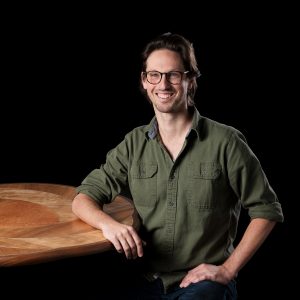 Jack Mauch grew up in the White Mountains of New Hampshire, in a family that valued both art-making and alternative education. As such, Jack quit high school at age 16 to study ceramics and woodworking at the Maine College of Art. After earning a BFA in 2006, Jack moved to Cambridge, Massachusetts where he worked as Lead Fabricator for the Exhibitions department at the Harvard Graduate School of Design. In this position, he worked closely with renowned architects and designers to create exhibitions that represented the cutting edge of contemporary design.
In 2011, hoping to deepen his own creative practice, he sought a Core Fellowship at the Penland School of Craft. Through this intensive two-year program, he gained a broad range of craft-skills and a personal design voice. Since 2013 Jack has been an independent artist and designer. Working primarily in wood, his creations range from large and intricate furniture to small-batch production items, and much in between.
In 2017 he received the Mineck Furniture Fellowship from the Society or Arts and Crafts in Boston, with which he developed a technique for applying wood veneer to extreme compound- curving geometry using computer-aided design and manufacturing processes. This experience seeded an interest in how digital processes can be integrated into the creative practices of artists and craftspeople.
He explores the intersection of traditional and digital craft in his own work and by consulting with artists who seek to bring these processes into their repertoire. Currently, Jack is based out of North Carolina. He makes his work at Treats Studios, an artist collective in downtown Spruce Pine which he co-founded in 2021.
Jack's Instagram
Jack's website
See Jack in: TU34: Integrating Craft and Digital Processes