Safety is our #1 priority!
AWFS® and AWFS®Fair will continue to prioritize the health and safety of Colleagues and Customers and will run in accordance with official government and local authority guidance, as well as venue or location-specific regulations. In accordance with the CDC and Clark County's latest guidelines, AWFS® will observe the following during the 2023 AWFS®Fair.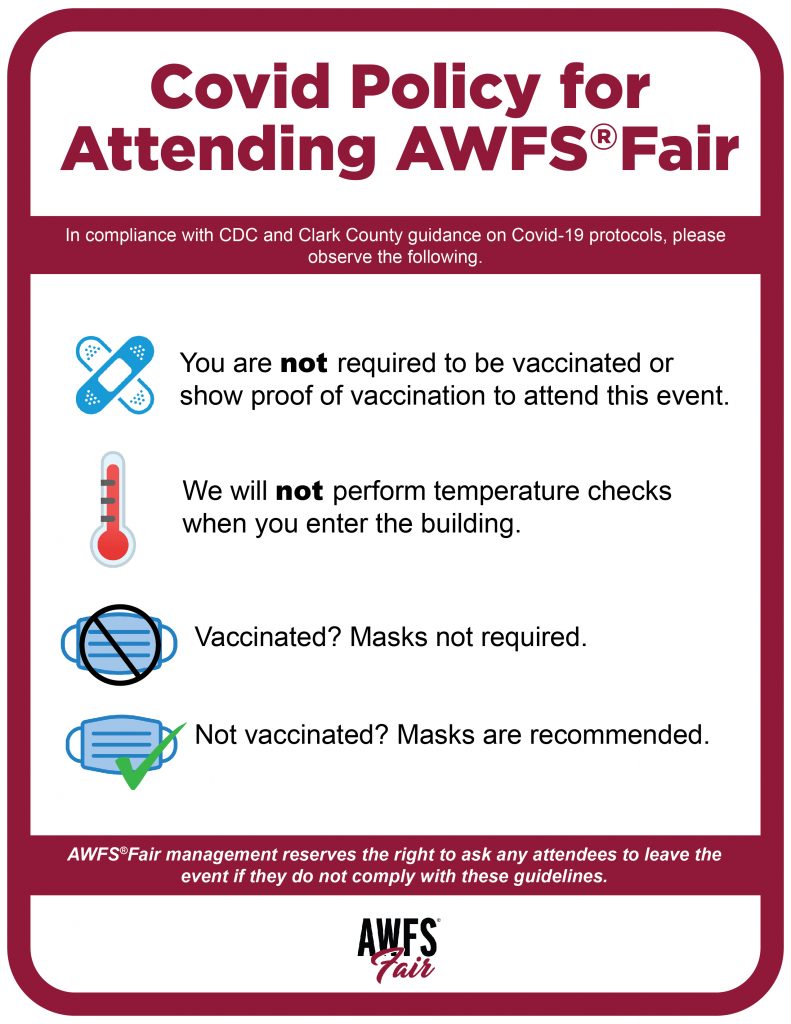 AWFS®Fair is creating a safe space.  We know that AWFS® has an obligation to each-and-every delegate to have the safest show possible and we are taking this very seriously.  AWFS®Fair, the facility and all vendors promise to create a safe-live-event while still allowing exhibitors and attendees to have fun and conduct business.
The Las Vegas Convention Center
The Las Vegas Convention Center (LVCC) was awarded the Global Biorisk Advisory Council (GBAC) STAR facility accreditation by ISSA, the world's leading trade association for the cleaning industry. Considered the gold standard for safe facilities, the GBAC program was designed to control the risks associated with infectious agents, including the virus responsible for COVID-19. The LVCC was the first facility in Nevada to receive the accreditation.
This third-party accreditation focuses on:
Direct everyone who can work from home to do so
Reasonable accommodation must be provided to employees who are vulnerable to COVID-19
Employees should not come to work if they are ill. THE HEALTH AND SAFETY OF OUR EMPLOYEES AND GUESTS IS OUR NUMBER ONE PRIORITY. NEAR-TERM MEASURES TO PROTECT EMPLOYEE HEALTH
Having the best procedures in place that will uphold strict cleaning protocols for infectious disease
Making handwashing facilities and/or sanitizing systems easily accessible to everyone
Masks and social distancing mandates and recommendations that help prevent the spread of infectious diseases
The proper training of employees to carryout preventative measures and reporting functions
The effective use of approved disinfectant chemicals and delivery systems to ensure everyone's safety
Response protocols for skilled professionals to address potentially infected people and/or places within the facility
Please send any questions or concerns you may have to AWFS®Fair Show Management directly at kim@awfs.org.
Thank you,
AWFS Fair Staff