At the 2023 AWFS Fair, attendees could partake in nearly eighty different educational sessions taking place in classrooms and on the AWFS Fair Live show floor stage. Here are some highlights:
Woodworking Network brought their Closets Symposium and CNC Bootcamp to the AWFS Fair on the day prior to the show. Attendees received a full day of intensive education from industry experts, along with networking, followed by the leadership reception.
The CWWK (College of Woodworking Knowledge) classroom seminar program featured 50+ sessions on Business Management, Cabinet & Millwork, Furniture, Techniques & Applications, and Software & Technology. Some highlights included the CMA What's Your Problem session, Steve Baker's exciting "Great Game of Business" session, a lively website audit with Mark Harari, and a Succession Planning panel discussion including a case study from our industry. CWWK also included the popular Teacher Track: seven sessions just for woodworking educators. This year, ShopBot and a team of high school teachers from Connecticut led a hands-on workshop on how to teach CNC in the classroom to a sold-out class.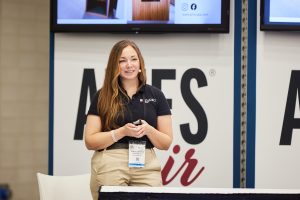 The Rapid Fire Presentations are offered by AWFS Fair exhibitors. They are 10-15 minute sessions on the AWFS Fair show floor stage. They follow themes each day: software, machinery, and hardware/material. Twenty-two exhibitors participated in this program, where they could demo a product or provide a teaser for a new solution and invite attendees back to their booth to learn more.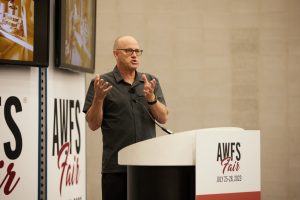 AWFS Fair WED Talks returned, featuring industry leaders who break the mold. Jane Dagmi shared an exciting insider perspective on the recent renaissance of the furniture industry in High Point, North Carolina. Eric Marshall gave insight on why the closet market is so popular right now. Renowned chairmaker Brian Boggs held a riveting discussion about the "myth of the craftsman and handmade object". You can watch the video recordings of all of the WED Talks here.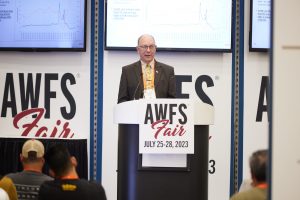 Also on the AWFS Fair Live show floor stage: attendees heard an update on the WIRC "YouWood" campaign to promote careers in the wood industry. Thomas Allott provided an update on the National Woods Board, which is developing industry-focused curriculum for woodworking programs. Dr. Chris Kuehl provided an economic update, which was immediately followed by a panel discussion on the current state of our industry's supply chain. And not to be missed – Dom Rubino entertained the audience while sharing "what you're missing" in your business if you're focused on profit and revenue.
Stay tuned for 2025 AWFS Fair education offerings and be sure to join us!