FOR IMMEDIATE RELEASE
Contact: Adria Salvatore
adria@awfs.org
(323) 215-0311
Winners Announced for AWFS®Fair Fresh Wood Student Competition
High School Students Take Home Top Prizes Best of Show and People's Choice
 LAS VEGAS, NV − (July 28, 2023) – Gage Day, a student from Corner Canyon High School (UT), won the Best of Show award in the 2023 AWFS® Fresh Wood student woodworking competition after judges reviewed 40 finalist projects of from twenty different high schools and colleges in the U.S. at the 2023 AWFS®Fair in Las Vegas, Nevada.
Day was awarded a one-of-a-kind sculpture made by renowned chairmaker Brian Boggs, which was displayed at the Fresh Wood booth throughout the show. In addition, he received $2,000, and a copy of Cabinet / Closet Workshop software. The Best of Show award is sponsored by KCD Software. KCD also provided two additional copies of the Cabinet / Closet Workshop software to students in the competition.
Day also received First Place in the High School Seating category and High School Special Theme: Small Projects of the competition, which included another $1,000 prize.
The judges found the Best of Show award decision very difficult this year, with a tie between Gage's project and The Apothecary Cabinet by Shepherd Zambonelli from Selkirk College, which led them to create a new award to recognize Shep's project: The Judges' Nod.
Fair attendees awarded the People's Choice Award, and a $750 prize, to Alexander Murren Doherty at Dos Pueblos High School, for his Maloof Inspired Rocker. Zander's project also received First Place in the High School Seating Category. Zander's school will receive a PantoRouter thanks to People's Choice sponsor PantoRouter.
MicroJig Tools sponsored a Bravo to Teachers award, by presenting two GRR-RIPPER 2GO 3D push blocks to each teacher with a Fresh Wood finalist project.
The Fresh Wood 2023 judging panel – consisting of Ethan Abramson, Brian Boggs, Lois Snyder, Thomas Tuck, and Jamie Yocono – spent a full day at the AWFS®Fair carefully studying and discussing each project during the final scoring process.
First Place winners in each category and at each school level received a $1,000 prize, Second Place winners received $500 and Honorable Mention winners received $250. AWFS® covers project shipping and the majority of travel and hotel costs to bring the students and their teachers to Las Vegas.
The biennial event, held as part of AWFS®Fair, attracted 142 entries from schools in the United States and Camada. The Fresh Wood winners are listed in the table below.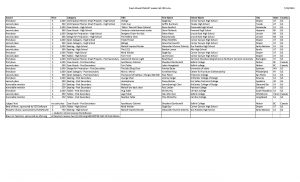 About AWFS®: The full-scale international AWFS®Fair, held July 25-28, 2023 in Las Vegas, has become a critical hub for international commerce in the woodworking industry. The AWFS®Fair brings together the entire home and commercial furnishings industry, including manufacturers and distributors of machinery, hardware, plastics, lumber, construction materials and other suppliers to the furniture, cabinet manufacturers and custom woodworkers. For more information on the AWFS®Fair, please visit: AWFSFair.org.