Publication Features Award-Winning Student Work from 2017-2021 AWFS®Fairs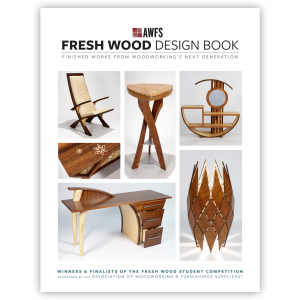 Anaheim, Calif., (November 2, 2022) — The Association of Woodworking & Furnishing Suppliers® (AWFS®) has partnered with Cedar Lane Press to publish a new book featuring student projects from the Fresh Wood student woodworking competition.
Fresh Wood Design Book: Finished Works from Woodworking's Next Generation (November 2022; $34.95) is a 192-page, high-quality full color coffee-table sized book with professional photography of each students' project, courtesy of woodworker and photographer Alan Harp. This unique softcover book features the finalist projects from the 2017, 2019, and 2021 Fresh Wood competitions, which were on exhibit at the AWFS®Fair in Las Vegas each respective year. In addition to rich photography of each project, the book features details and commentary from the students about their construction processes and challenges and the tools, machinery, and other products they used.
"We are so excited to have a new edition of the Fresh Wood book," says AWFS Executive Vice President Angelo Gangone. "We realize how well-loved this competition and book are by students, educators, and members of our industry. We hope that this book will inspire more students and schools to expand their woodworking skills and more industry professionals and companies to connect with schools."
"It's a privilege to partner with AWFS® on this project. I think many in the woodworking community will be floored by the finished works of these talented students," says Cedar Lane Press Publisher Paul McGahren.
The book also features a foreword by Duane Griffiths, founding Chair of the Fresh Wood committee and a long-standing supporter of the competition. Readers can also learn about the Fresh Wood judges and find an index of all schools with finalist projects featured.
Fresh Wood Design Book: Finished Works from Woodworking's Next Generation is now available on Amazon.com or directly from Cedar Lane Press here.