ON THE CHASING OF DREAMS: MY LIFE AS A WOODWORKER AND EDUCATOR
AWFS® was honored to host industry leaders and innovators for the 2021 WED Talks (Wood EDucation Talks).
About this WED Talk
Growing up in a house full of antiques and dismantled timepieces my education on the mechanics of things started at an early age. Though it wasn't until later in my life that I realized I had a knack for putting things together. On the first day of school my teacher asked me who my idol was and without hesitation I said Thomas Moser. Here was a person who did everything I wanted to do! They made custom furniture, taught woodworking classes, and eventually had an entire line of furniture with their name on it. I'm 2/3rds of the way there….
Learn more about the new Hocking College Cabinetmaking and Architectural Millwork Program here: Cabinetmaking and Architectural Millwork (hocking.edu)
About Chris Hedges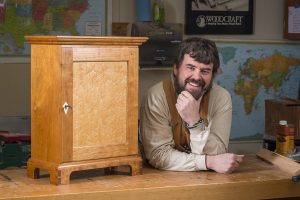 For over a decade, as founder and sole proprietor of the independently-run AedanWorks, Chris Hedges specialized in bench-crafted custom cabinets and furniture. Over the course of his career, he shipped pieces worldwide, won numerous awards reflecting his attention to  excellence and design, and has served as a contributing editor for Woodcraft Magazine. Originally from Circleville, Ohio, Hedges graduated from the University of Rio Grande's Fine Woodworking program and has his MA in sociology and BA in philosophy from Ohio University. He is currently the Program Manager and Head Instructor for the newly created Cabinetmaking and Architectural Millwork program at Hocking College, a program for which he designed and received accreditation from the Higher Learning Commision and the Ohio Department of Education.