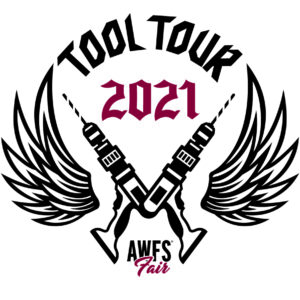 AWFS® is very excited to introduce the 2021 Tool Tour at next July's AWFS® Fair, which will highlight manufacturers that feature the small equipment, power tools and hand tools that shops of all sizes need for their daily operations. The Tool Tour will feature a fun, interactive Rock n' Roll theme as buyers will be incentivized to visit participating exhibitors in order to receive a free Tool Tour commemorative t-shirt featuring the Tool Tour logo on the front and participating exhibitors on the back (reminiscent of classic rock band concert T's). These t-shirts are sure to be a big hit among exhibitors and buyers alike!
AWFS® will be heavily promoting this program prior to and throughout the Fair and anticipate strong participation. If your company would like to participate in this fun and innovative promotion, please fill out and return the entry form found by clicking here.
Participation is free for all qualified exhibitors!
ROCK ON!!!!