By Rich Christianson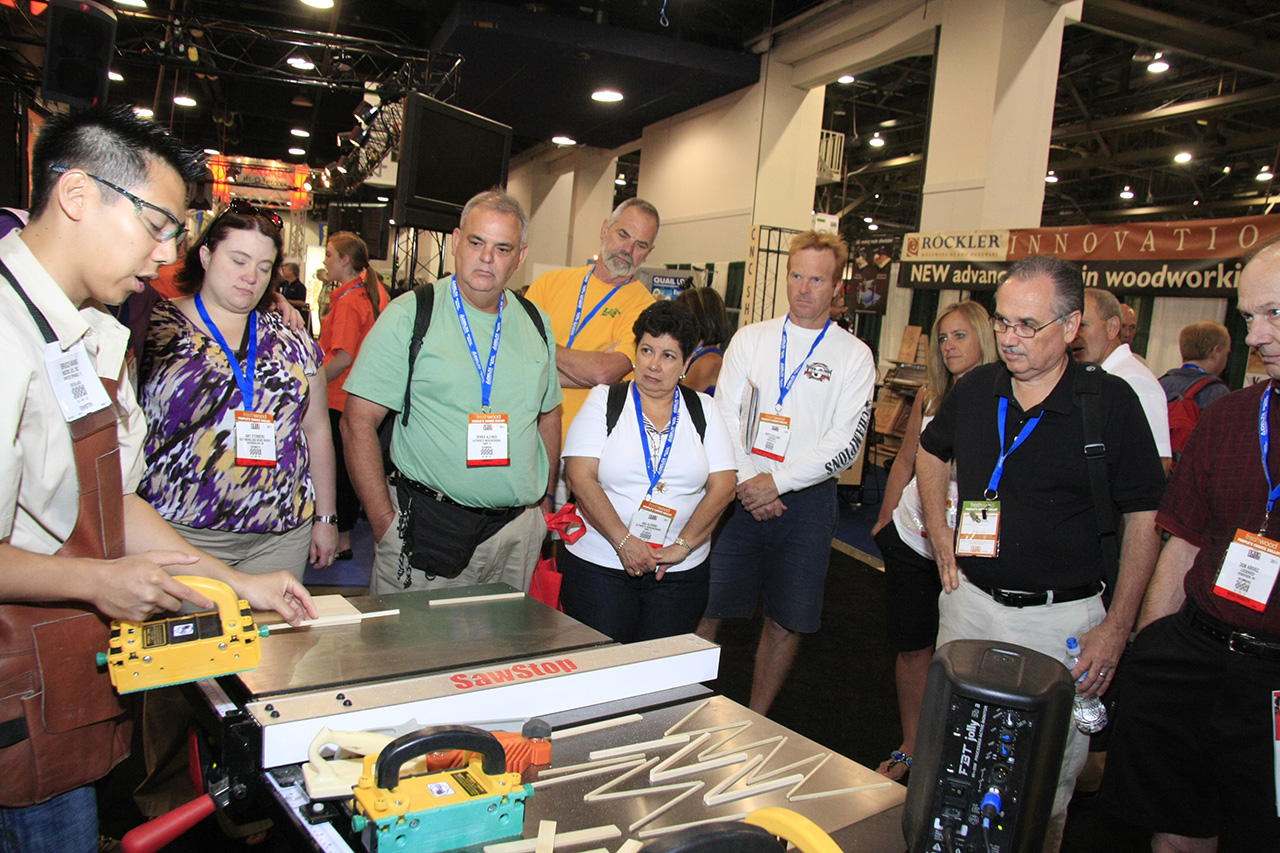 Call me a glutton for punishment, but even after attending woodworking shows for nearly 35 years, I still get a kick out of going to them.
Yes, attending trade shows can be grueling to the feet, harsh on the throat and taxing on the mind. (Have you ever experienced what I call "trade show lag?" I find that it usually kicks in on the afternoon of day three of a show when an exhibitor is trying to explain a product or concept, but my brain feels like it's in a different time zone.)
So, why do I still enjoy attending trade shows? Let me count the ways, or at least 10 of them.
10 – Seeing is believing. Reading about new products or watching video product demos can be educational, but nothing beats seeing a new machine or woodworking supply in the flesh. Being able to hold up a workpiece that has just been machined to the light, to run your hand across a textured laminate or experience the quiet movement of a soft-close drawer are just some of the live experiences I look forward to at shows.
9 – Technology. I'm not a tech junkie, as my iPhone 5 will attest, but I am always fascinated to see demonstrations of next generation woodworking automation. I've enjoyed watching technology evolve from the end of punch tape CNC routers to Industry 4.0-ready machines. Having attended industry trade shows year after year gives me a deep sense of appreciation of how far the woodworking industry has come, baby!
8 – Cool designs. Machinery tends to be the star attraction at woodworking shows. While equipment obviously play an important behind-the-scenes role in a manufacturer's production efficiencies and capabilities, it's the decorative surface, hardware and accessory items that make the product sizzle for the customer. I well remember the days of visiting board supplier booths and being subjected to 50 shades of white melamine. Now, not only has the terminology been updated to the more descriptive thermally fused laminate, the color ranges are startling more bountiful. As for woodgrains, once dull and lifeless, with the advent of synchronized printing, they now mimic wood to the point that even from close range, they like and feel like the real deal. The paint side of decorative finishing has made fantastic strides in improving performance while dramatically reducing VOCs in their products.
7 – Behold and see. Judge for yourself how ergo-dynamic that spray gun or orbital sander really is by gripping it with your own hand. Observe how that soft-close hinge reacts to a good slamming. See first-hand whether or not the parts coming off that edgebander meet your quality standards.
6 – Shop and compare. Closely related to #7, trade shows are a not-to-be-missed opportunity to check out similar or alternative products offered by multiple suppliers. They are also the best place to look at potential new sources of items you are already using. Are there other companies offering better quality, more options, lower prices, better value, etc.?
5 – Question-answer/answer-question. Why invest in a pod and rail router vs. a flatbed router? How does that new dust collector save energy costs? What are the typical turn-around times for tool sharpening? Talk to the experts face-to-face and learn. Get answers to your questions and ask follow-up questions to their answers in real time.
4 – Celebrating outstanding achievement. It's been said that competition brings out the best in everyone. Industry trade show competitions like the AWFS Fair Fresh Wood competition provide a grand stage to showcase student design and woodworking skills and provide an incentive for these talented youths to take a fresh look at the potential of rewarding careers in our great industry.  In addition, new product competitions like the biennial Visionary Awards, shine a spotlight on innovation across machine and supplies categories. It's always interesting to check out the winners and finalists of these prestigious contests.
3 – Keeping up with the Competition Workforce Development: Hiring, Training & Retaining Skilled Workers Environmental & Safety – Protect the Planet & Your Employees
2 – Lightbulb moments. Trade shows are teeming with ideas and concepts that can open up a whole new world of possibilities to better manage your business. The show floor and conference rooms are breeding grounds for "ah-ha" and connect-the-dot moments. Like a bolt of lightning, seeing a software or machine demonstration, or listening to a speaker share his or her knowledge can generate solutions to improve workflow, increase productivity or address workforce development needs.
1 – Wood industry reunion. I've been blessed to meet a lot of fantastically wonderful people over the course of my career. It's a huge bonus to catch up with friends and colleagues at trade shows to update our status in life and compare notes on our families. The opportunity to meet old friends and make new ones at woodworking trade shows reaffirms why I still love doing what I do.
Rich Christianson is the owner of Richson Media LLC, a Chicago-based communications firm focused on the North American woodworking industry. The former Editorial Director of Woodworking Network, Wood & Wood Products and CWB magazines, Rich has toured more than 250 wood product operations and attended dozens of industry trade shows and events during his more than 30-year career. www.richsonmedia.com