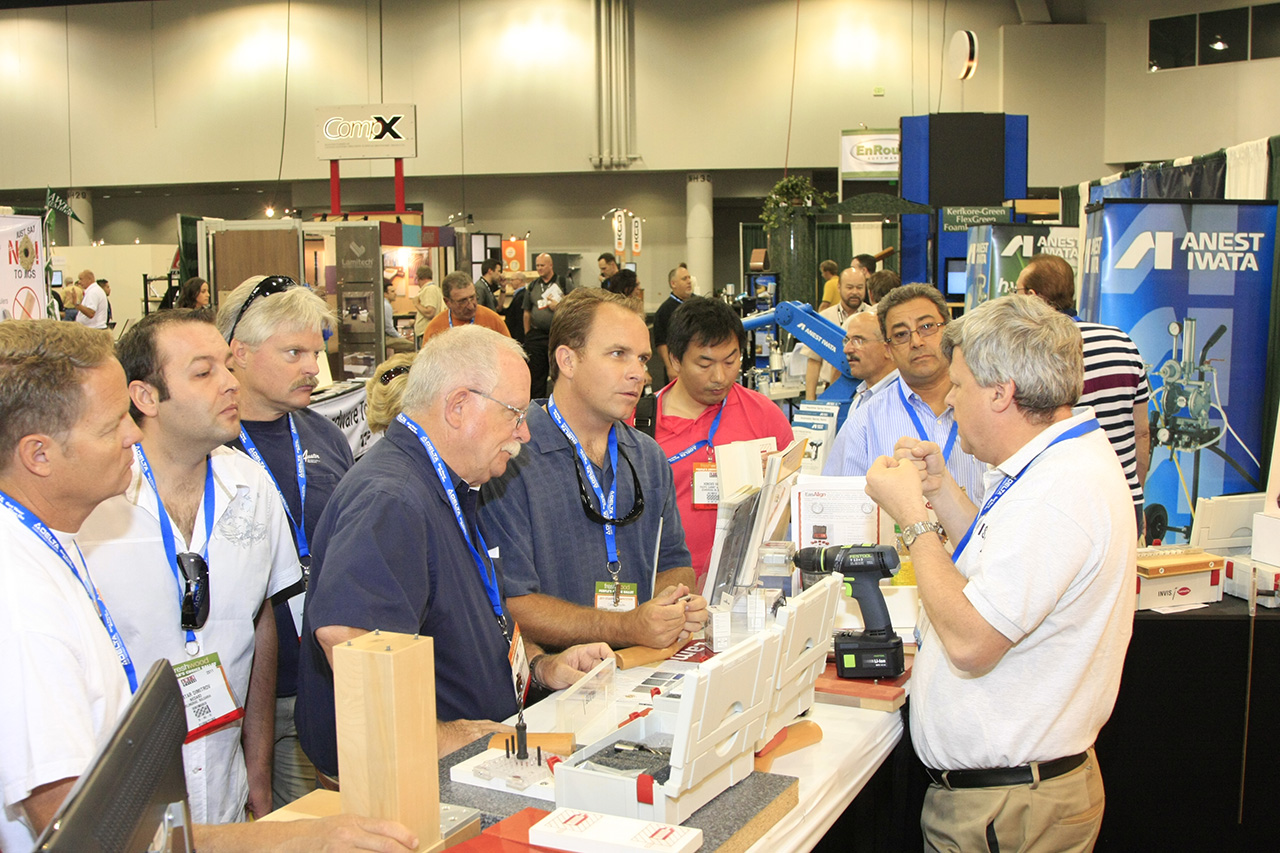 By now you should at least be thinking about setting up your travel plans to attend the AWFS Fair in Las Vegas, July 17-20. Congratulations if you've already registered for the show and booked your flight and hotel.
If you're on the fence about attending North America's most important woodworking event of the year, then I urge you to think again. No matter how busy you are, you still have ample time to schedule being away from the shop for a few days. Attending this premier trade show is not so much an expense as it is an investment in your woodworking business or career.
Whatever your size, location or manufacturing focus, you'll find new products and new sources of products that can help you increase productivity, improve quality, add design sizzle, and ultimately boost your bottom line.
I've been attending the AWFS Fair since 1985 and know full well that this show has something for everybody.
Looking to replace or upgrade a spray gun or move into the 21st century with a 5-axis CNC router? Then the AWFS Fair has got you covered.
Need a source of soft-close undermount drawer slides or the latest designs of textured TFL panels? There will be many exhibitors displaying these products worth seeing.
Maybe your dust collection system is old, inefficient and non-compliant or your current brand of saw blades isn't making the cut. Come to the AWFS Fair to find solutions.
Some 600 companies from around the world will exhibit at this year's show. In addition, hundreds of other manufacturers will be represented by their U.S. distributors exhibiting in Las Vegas. Thousands of products ranging from abrasive belts to zippers will be on display. By spending two or three days at the AWFS Fair you will learn what's new, shop and compare products, see product demonstrations and get answers to your questions in real time so that the machines and supplies you invest in meet your current and future needs.
New ideas and opportunities lurk up and down every aisle of the show. If you take your blinders off, you'll find things you didn't know existed or that you hadn't considered could benefit your business. Indeed, the 2019 AWFS Fair will feature dozens of companies exhibiting for the first time. Some are companies owned by inventors who have developed products with unique applications. Others are importers bringing in products from the four corners of the world.
Make plans to attend the AWFS Fair. Challenge yourself. Don't accept the idea that you have all of the answers and that you can't do better in your shop to design and make better and more profitable products. Scour the booths. Take a close look at the products on display. Ask exhibitor representatives questions, get answers and ask more questions.
This is the power of experiencing the AWFS Fair live. Don't miss it. Register now. https://awfsfair.org/registration/
Rich Christianson is the owner of Richson Media LLC, a Chicago-based communications firm focused on the North American woodworking industry. The former Editorial Director of Woodworking Network, Wood & Wood Products and CWB magazines, Rich has toured more than 250 wood product operations and attended dozens of industry trade shows and events during his more than 30-year career. www.richsonmedia.com.